Looks like this event has already ended.
Check out upcoming events by this organizer, or organize your very own event.
| | |
| --- | --- |
| Women's Ministry Program - Purchase Page | |
Event Details
It is through our new faith-based programs
where women:
Build Healthy Christian Friendships.
Refuel their Superwoman souls.
Ignite their spiritual calling.
Strengthen their faith.
and
Leave inspired to live boldly and authentically.
This program is about connection, belonging and creating a safe, fun and faith-based environment for women of all ages to connect, share their hearts and build friendships. We are out to ignite women's ministries with a program that serves women in a new, fresh way. Our programs - your style. Regardless of the size of your church or women's ministry, our programs are created to blend with the established style of your existing ministry. This curriculum is faith-based and can be used in all denominations of the Christian faith.
Women are the heart of the church, our families, our communities and the world. When our hearts are shattered, broken, busy, alone or overwhelmed
it is hard for us to see God's purpose for our lives
When women have a safe, non-judgmental but faith-based environment in which to meet on a regular basis, faith is strengthened, hearts are empowered, and strong connections are made with other like-minded women. As this takes places in your church, women increasingly allow God to strengthen their faith, empowering their lives and the lives of those they touch. Everything becomes possible when our hearts are open and available.
Who we serve:

This program
 is faith-based and can be used in all denominations of the Christian faith
 to build and revitalize your women's ministry or add to your women's programs. 
Statement of Faith here
.
What is Included: 
12 months of

 themes that inspire and great to help plan the year 

(i.e. January: Creating Your Best Life Yet!)

12 months of faith-based and inspirational programming

90 minute training video for your team to watch

Rights to use all of the promotional materials (a video, logos, and pre-made flyers, graphics)

Ongoing support from the founder and team

Monthly email from headquarters with tips, news, stories, support and a monthly video

Being a part of this great mission to revitalize women's ministry through connecting and inspiring women!
Discount launch prices good through

June 1st

:
The price reflects a 12-month CCC Chapter which includes everything from above:
--$299 [congregation under 500
] 
($75 for 2nd year and each annual renewal after)

--$599 [
congregation:
 600-1900
] 
($150 
for 2nd year and each annual renewal after

--$899 [
congregation:
 over 2000
] 
($250 
for 2nd year and each annual renewal after
)
Its easy to get started...
Simply pay at the top of this page and then you will recieve an email with directions on how to get started!
To see our video and much more information click here!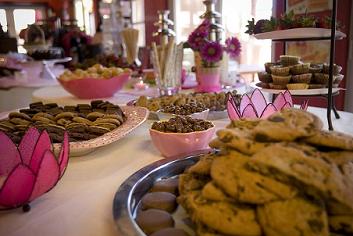 Organizer
Dena Patton
Mailing address:
Dena Patton
4340 E. Indian School Road, Suite 21-143 
Phoenix, AZ 85018
Phone: 480-282-4242
Fax: 602.926.8007
Email info@chatchewandchocolate.com